Euro pallets – Euro pallets for sale
Germany Palette Deutschland is a leading pallets manufacturer and trading company in Europe, gives you access to a wide range of choice of Euro pallets measures and confirm to full European regulations.
The professionals in logistics and warehouses use various denominations for the EURO / EPAL pallet, here is a compilation: EURO pallets or EPAL pallets as follows:
Designation:   EURO EPAL Pallets out of wood with four entries.
Dimensions:    800 x 1200 mm
Thickness plates:        22 mm
Total thickness:          166 mm
External dimension dice:       145 x 100 x 100 mm
Interior dimension dice:         145 x 145 x 100 mm
Weight:           Between 22,5 et 27 kg.
The strict regulations levied on the manufacturer to which timber and nails should be used in the manufacturing process.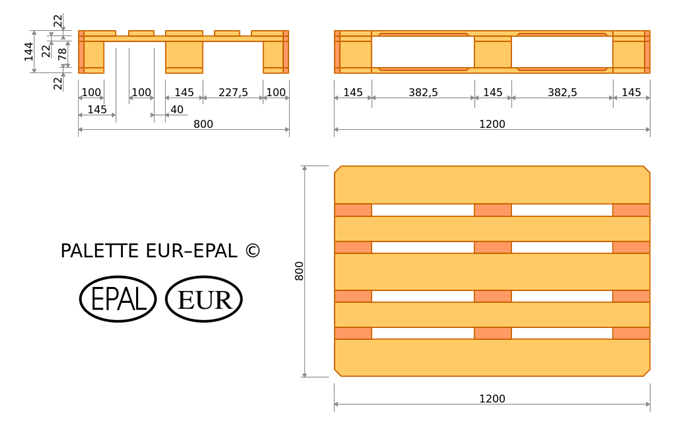 Typically there are four main types of Euro Pallets available
EUR-pallet type
Dimensions (W × L)
ISO pallet alternative
EUR, EUR 1
800 mm × 1,200 mm
31.50 in × 47.24 in
ISO1, same size as EUR
EUR 2
1,200 mm × 1,000 mm
47.24 in × 39.37 in
ISO2
EUR 3
1,000 mm × 1,200 mm
39.37 in × 47.24 in
EUR 6
800 mm × 600 mm
31.50 in × 23.62 in
ISO0, half the size of EUR
1. Stamped Food Grade Quality Euro
2. Stamped B Grade Euro (slightly dirty)
Palette Deutschland provides various types of Euro pallets in a wider choice. To order either give us a call on Tel.Nr. +49 (0) 2826 2640620 or send us an email.